| | |
| --- | --- |
| Where: | Kilburn, North Yorkshire at The Square |
| When: | Sunday after 6th July |
| Time: | From 1pm |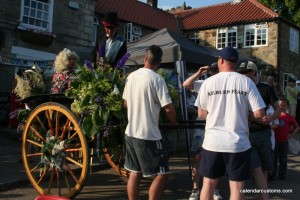 Kilburn Feast is held each July and is today a local event for villagers rather than the big horse-fair and show that it was in the past. There are childrens sports, races to the Kilburn White Horse (the only big chalk hill-figure in the North of England), stalls and entertainments. The mock-Mayor and Mayoress are a feature of the event- they wear fancy dress and are both male!  Their parade takes place on the Sunday evening and their function is to fine people for ludicrous "crimes",  such as having a moustache or carrying an umbrella,in a money raising venture for the feast. Their flower bedecked man-drawn cart is wheeled up the village street, which is turned into a toll road for the event – motorists passing through are expected to make a contribution to the Lady Mayoress' capacious handbag of fines. Expect the Mayoress to leave a trail of lipstick-besmirched folks in her wake – strong men quail at her approach, applying lipstick and flouncing towards her prey. There are events over the whole weekend but the Mayor and Mayoress' reign lasts for only one day a year on the Sunday.
Helpful Hints
In 2018 it will be on Sunday July 8th. Click on the Facebook link below for full details.
Click here for the event facebook page: https://www.facebook.com/KilburnFeast
and here for the website: http://www.kilburnfeast.uk
Use this address to contact the organisers: Kilburnfeast@hotmail.co.uk
View larger map