| | |
| --- | --- |
| Where: | Kimberley, Nottinghamshire usually starting at the Stag Inn on Nottingham Road |
| When: | Just before Christmas |
| Time: | 8.30 onwards |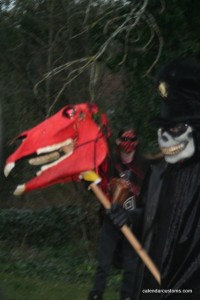 Poor Owd Oss is a traditional mumming play featuring an eponymous painted horse-head on a stick ,who causes mayhem for one night only each year in the run-up to Christmas.  Similar plays were at one time a feature of the Sheffield area but there are few survivors – the Company of Owd Oss are an offshoot from Black Pig Border Morris who revived the custom several years ago. Poor Owd Oss has a special song and is accompanied by musicians and a supporting cast who tour a few pubs in and around Kimberley giving a brief performance at each.
Helpful Hints
Check near the time on Black Pig's website (link below) for the full details and exact timings.
If you can't get to Kimberley, the group also perform frequently at Chepstow Wassail (see separate article) which is where we first saw them and where the photo was taken.
Click here for the Black Pig website : http://www.blackpigborder.co.uk/home.htm
View larger map