| | |
| --- | --- |
| Where: | Kirkcudbright, Dumfries & Galloway staring at Dee Walk and ending at Harbour Square with Speeches |
| When: | Friday in mid to late July |
| Time: | 7pm-9pm with Speeches from 8.30 |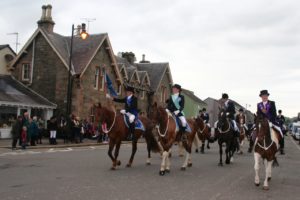 Mid to late July is the season for the annual Riding of the Marches at Kirkcudbright. Common Ridings are  boundary marking customs on horseback and at Kirkcudbright the Principals are the Cornet, Cornet's Lass and Pursuivant, who lead the cavalcade around the boundaries. The ridings are mainly held at locations across the Scottish Borders, perhaps because this area suffered from centuries of raiding and reiving between local families and the English, and the locals needed to protect their lands from encroachment. Kircudbright's custom dates back to 1485, when the town was given Royal Burgh Status by a Charter of King James II, granting common land to the townsfolk. The Kings Messenger or Pursuivant was met by local cavalry officer the Cornet and the pair rode around the boundaries of the land; today their ride is recreated annually by the Cornets Club and a cavalcade of over 100 horses and riders make the trip. The riders tour all around town, with stops at hostelries at set points around the town for a welcome stirrup-cup, before speeches are made at Harbour Square. Expect lots of music,flag waving, wreath-laying and ceremony!
Helpful Hints
In 2017 it was held on Friday July 14th – 2018 date is yet to be announced.
Click here for the town website: http://www.kirkcudbright.co.uk/index.asp
Click here for Cornets Club details: http://info.dumgal.gov.uk/ClubsandOrganisations/Home/Details/4121
View larger map