| | |
| --- | --- |
| Where: | London - Procession starts at All-Hallows-by-the-Tower on Byward Street , moving to Seething Lane for the cutting. 2017: cutting to take place in garden at All Hallows by the Tower while Seething Lane garden is undergoing an overhaul |
| When: | Date and weekday can vary - currently often a Wednesday in early June |
| Time: | 10.45 |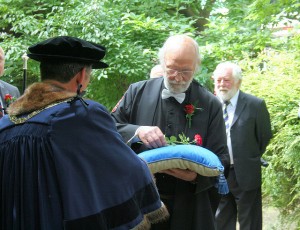 The Knollys Rose Ceremony is a revival of a custom in which a rose was given as payment for a fine. Back in 1381 a footbridge was erected without permission between two properties on Seething Lane owned by Lady Constance Knollys and for this transgression she was fined one red rose; the custom was revived in the twentieth century and is carried out by the Company of Watermen and Lightermen of the River Thames. The Master of the Company chooses a rose from the garden on Seething Lane; the cut blossom is carried ceremonially on a velvet cushion by the Verger of All-Hallows-by-the-Tower in a colourful procession to the Mansion House, where is it presented to the Lord Mayor in a private ceremony.
Helpful Hints
It usually takes place in June but the date and weekday can vary depending on the availability of the Lord Mayor so is agreed on a year-by-year basis rather than being firmly fixed. Anyone can watch the rose cutting and procession – just don't expect to get into the private ceremony at the Mansion House.
"Knollys" is pronounced just like "Knowles".
In 2017 it will be held on Wednesday June 14th.
Click here for the event website : http://www.ahbtt.org.uk/history/knollys-rose-ceremony-/
Photo by Ian Mansfield.
View larger map