| | |
| --- | --- |
| Where: | Knutsford, Cheshire - starting at Marshall's Yard |
| When: | 1st Saturday in May |
| Time: | 2pm onwards |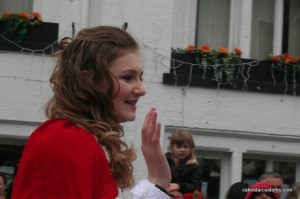 At Knutsford the May Day festivities take place on the first Saturday of the month rather than May 1st itself  and it's one of the most spectacular spring celebrations in the UK, earning its "Royal" status after a visit from the Prince & Princess of Wales in the late Nineteenth Century. There is an elaborate and extensive fancy-dress pageant of dozens of children in historical or legendary costumes with morris dancers, a Jack-in-the-Green, chinese dragons, musicians, town criers and officials and of course the May Queen and her Court Attendants in horse-drawn carriages. A unique custom attached to Knutsford is "sanding" where the towns pavements are decorated with patterns and pictures of coloured sand for the day. In addition to all this there is Maypole and morris dancing and the coronation of the May Queen (she wears a replica of Queen Elizabeth's crown and one of the perks of the post is that she gets to keep it!) .
Helpful Hints
In 2018 it will be on Saturday May 5th.
Click here for the website (lots of great photos!) : http://www.knutsford-royal-mayday.co.uk/
View larger map