| | |
| --- | --- |
| Where: | Largs town centre with Fire Festival at Broomfields |
| When: | Early September for 2 weekends (and week between) |
| Time: | From 1pm on Saturdays with Festival of Fire at 8pm on Second Saturday |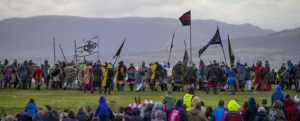 The Battle of Largs took place in 1263, when the Norse King Haakon was defeated by the Scots King Alexander III; Haakon's death led to the Western Isles and the Isle of Man becoming part of Scotland. This history is celebrated annually in early September with a festival which lasts over two weekends and the week between. The main focus is the living history encampment where visitors can experience the thirteenth century Viking way of life. As well as the Living History Village, there are craft and food stalls aplenty, street performances and various entertainments including dancers and musicians. The Opening Parade and Ceremony is on the first Saturday, followed by Pipers and a Viking Skirmish, and the highlight of the second weekend is the Festival of Fire at 8pm, which begins with a torchlit procession from the Village and includes a battle re-enactment and the burning of a longship, with a firework spectacular to end the night literally with a bang.
Helpful Hints
In 2017 the Festival will run from Saturday September 2nd to Sunday 10th September. In 2016 entry was £5 to the Village.
Look out for the Pencil, as the Battle Monument is known (you can't miss it!).
Click here for the event website: http://www.largsvikingfestival.com
and here for the Facebook page: https://www.facebook.com/LargsVikingFestival
Photo by TechDaveStudios.
View larger map