| | |
| --- | --- |
| Where: | Lauder, Borders starting at the Town Hall |
| When: | 1st Saturday in August |
| Time: | 7.30 am |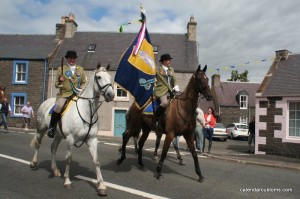 Lauder Common Riding is one of the longest established customs in the Borders calendar, with records dating back hundreds of years. A series of other events like a fancy dress competition take place in the week leading up to the Riding itself. The riders mark the local boundaries, calling at cairns and stones along the way. The Cornet leads the cavalcade after receiving the Burgh Flag at the Tolbooth (also known as the Town Hall) at 7.30 am; on their return at around 11.30 there is a remembrance ceremony at the War Memorial. After a few prayers, lowering and raising of the flag by the Cornet and a minutes' silence, the procession makes its way down the main road followed by dancing townsfolk to the Town Hall . The flag is returned, speeches made and prizes presented including "best turned out" and one for the oldest equestrian. A ball follows in the evening (tickets for this to be bought in advance).
Helpful Hints
A glossy programme is available at local shops – and unusually it's free! It's easy to park in the sidestreets but keep off the A68 as this is where the cavalcade passes.
In 2018 it will be on Saturday August 4th.
Click here for more info : http://www.returntotheridings.co.uk/lauder.html or here for the official event website : http://www.laudercommonriding.co.uk/index.html
View larger map