| | |
| --- | --- |
| Where: | Laxton, Nottinghamshire at the Castle Mound (access from a footpath opposite the Church) |
| When: | May 1st |
| Time: | 5.20 am approx |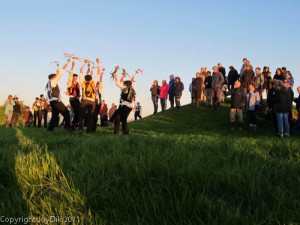 Every May 1st, Rattlejag Morris dance in the May at the ancient Castle Mound at Laxton. Welcoming the summer with dancing is a long-standing tradition which was revived here in the 1970s. Rattlejag (named after the rattles used by local plough teams to complement their dancing for Plough Monday) perform a series of dances and the public are cordially invited to participate in the last one. Afterwards there is a barbecue sausage and bacon butty breakfast. For nature enthusiasts, a Dawn Chorus Walk takes place on the same day accompanied by a wild life expert-walkers meet very early at the Laxton Visitor Centre next to the Dovecote Inn in the village, and viewing the Dancing is part of the walk along with identifying the bird song en route.
Helpful Hints
The event is free of charge – donations are requested for the breakfast.
Rattlejag have a full schedule of events throughout the year, of which the May Day dancing is a regular fixture. They're a mixed side performing broom, pipe and sword dances and formed in 2002 with the aim of reviving and developing the dance traditions of their local area.
For the Rattlejag website, click here : http://www.rattlejagmorris.org.uk/
For the Walk click here : http://www.laxtonnotts.org.uk/Guided_walks.htm
Many thanks to Joy Allison for the photos!
View larger map