| | |
| --- | --- |
| Where: | Lewes, Sussex starting at the Gun Garden in the Castle and ending at Cliffe High Street |
| When: | May Day Bank Holiday Monday |
| Time: | 10am at Castle, prizes given 11.15 |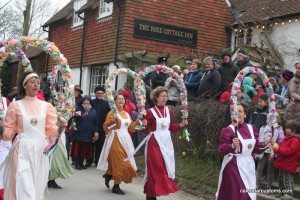 Knots in May the local dance group organise a traditional Garland Ceremony each May Day Bank Holiday Monday in Lewes. They take their name from the old tradition of gathering knots or garlands of flowers to mark the arrival of spring. There's a competition for local children to make the prettiest floral garland; this is judged by the Mayor at the Castle followed by a procession with the Knots of May and guest Morris dancers to Cliffe High Street where the prizes are given .  The history of the tradition in Lewes goes back to Victorian times, and was revived relatively recently by the dancers.
Helpful Hints
In 2018 it will be on Monday May 7th.
Click here for the Knots of May Facebook page: https://www.facebook.com/TheKnotsofMay/
and website: http://www.knotsofmay.org.uk
The photo is actually of Knots of May at a different location but as it shows their dancing garlands nicely I thought it worth putting on until I get one of the event.
View larger map