| | |
| --- | --- |
| Where: | Lichfield, Staffs at the Guildhall in Bore Street and in city centre streets |
| When: | Spring Bank Holiday Monday |
| Time: | 10.30am onwards with Coronation at 12 noon |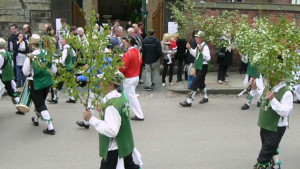 A Court of Arraye is an inspection of armed forces and it's been happening at Lichfield for centuries ; its origin lies in medieval times when the locals were obliged by law to defend their city with whichever weapons were at hand. Today the Mayor and civic officials  check out the preparedness to defend the city of a group of  soldiers in armour in a humorous rather than rigorous ceremony; this takes place inside the Guildhall and following this the party join the Bower Procession through the streets. Expect carnival floats, musicians, dancers and the Bower Queen with her entourage. Her coronation takes place at noon at the Guildhall and during the afternoon there  are entertainments and competitions in  Beacon Park. Highlights include a scruffs dog show, stunts, a funfair and a wide variety of music.
Helpful Hints
Space inside the Guildhall is limited so arrive early – admission is free. The route for the procession is shown in the Bower programme which is available online (click Bower link below) with full details of all the events on offer and parking options.
In 2018 it will be on Monday May 28th.
Click here for the Bower website: http://lichfieldbower.co.uk/
Click here for more info: http://www.lichfield.gov.uk/events.ihtml
Photo by Steve Lightfoot.
View larger map