| | |
| --- | --- |
| Where: | Lichfield, Staffs at the Guildhall in Bore Street |
| When: | 23rd April (unless it's a Sunday in which case the Court sits on Saturday 22nd instead) |
| Time: | 12 noon |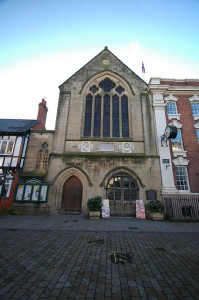 Every St George's Day, the officials of the Court Baron and View of Frankpledge in Lichfield, ( a.k.a.St George's Court) gather at the Guildhall to appoint the officers of the manor of the Barony of Lichfield. The Mayor and councillors instal two High Constables, seven Dozeners (or petty constables), two Pinners and two Ale Tasters and annual reports are made by the Constables. Fines are  imposed by the jury for any transgressions over the previous year and a feature of the event are the ridiculous reasons given for non-compliance with the rules.
Helpful Hints
When St George's Day falls on a Sunday, the Court moves to Saturday 22nd instead. Space is limited inside the Guildhall so arrive early – admission is free.
Click here for more info: http://www.lichfield.gov.uk/Civic_Events_Diary_679.aspx
Photo by Tom…
View larger map