| | |
| --- | --- |
| Where: | Lockerbie, Dumfriesshire |
| When: | Mid June with the Common Riding & Parade on Second Saturday in Month |
| Time: | From 8.25 am with Procession to Town Hall for 1pm |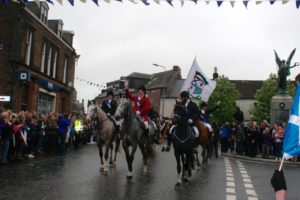 Lockerbie Gala in held each year in mid June and features a Common Riding as well as the coronation of the elected Gala Queen and numerous other events. The Rideout is led by the Cornet, Cornet's Lass and Standard Bearer and around 100 equestrians follow them around the local boundaries during the morning of Gala Day. Common Ridings are a boundary marking custom on horseback. They are mainly held at locations across the Scottish Borders, perhaps because this area suffered from centuries of raiding and reiving between local families and the English, and the locals needed to protect their lands from encroachment. Long after this was necessary, the Ridings survived to become major festivals and a great day out! On Gala Day itself, the Rideout returns to town at mid-day once all the boundaries have been inspected, joining the Parade outside the Town Hall at around 1pm. During the Parade, various stops are made by the participants to perform, and the ancient Proclamation is read – it's printed in the Gala Gazette programme and Sassenachs and other foreigners may have trouble following it… After the Parade, there are entertainments at the Park, and in the evening there are massed bands, the Cornet signs a scroll at the War Memorial and the Standard is handed back.
Helpful Hints
In 2018 Gala Day will be on Saturday 9th June.
The Gala Gazette is available at local shops and contains a full schedule for all the events – in 2017 it was £2.50.
Click here for the event facebook page: https://www.facebook.com/pages/Lockerbie-Gala/128392737236965
View larger map