| | |
| --- | --- |
| Where: | Ardingly, Sussex at the South of England Centre |
| When: | Easter Monday |
| Time: | Judging from 10.30 with Parade from 1pm-2. |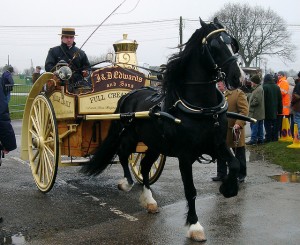 The London Harness Horse Parade is an annual event celebrating the heritage of horse drawn vehicles and is the amalgamation of  the Cart Horse Parade and Van Horse Parade, formerly held separately. One of the original aims of the event was to promote the welfare of the beasts concerned and to promote interest in their work. Expect all sizes of equine from donkeys to heavy horses, with working brewers' drays, hearses and all types of commercial vehicles on active display.
Helpful Hints
The parade is now held outside the city, but keeps London in its name because of  close historical associations. Plenty of free carparking is available on-site.
In 2018 it will be held on Monday April 2nd.
Click here for the event website : http://www.lhhp.co.uk/
Photo by Gail Broady.
View larger map