| | |
| --- | --- |
| Where: | London at Guildhall Yard |
| When: | Shrove Tuesday |
| Time: | 12 noon |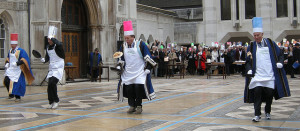 While there are numerous pancake races held the length and breadth of the country, the Inter Livery Pancake Race hosted by the Worshipful Company of Poulters is one of the most visually spectacular of them all, so it gets its own listing here on the website. Teams, each of four competitors and wearing either fancy dress or full regalia or perhaps a combination thereof, race around the Guildhall Yard tossing their pancakes and the victors receive, fittingly, frying pans as well as a trophy. Each of the participating trades have their own appropriate role in the proceedings, for example the Gunmakers start each race literally with a bang, Clockmakers time the heats and Fruiterers provide lemons to accompany the pancakes. The competition has been running annually for over 10 years and proceeds go to charitable causes.
Helpful Hints
In 2018 Shrove Tuesday is on February 13th.
Click here for the Poulters' website : http://www.poulters.org.uk
Click here for more : http://www.liverycompanies.info/diary–news/
Photo by Martin Deutsch.
View larger map