| | |
| --- | --- |
| Where: | Twyford, Hampshire at St Mary's Church |
| When: | 7th October |
| Time: | Before 9.30am and around 7pm. |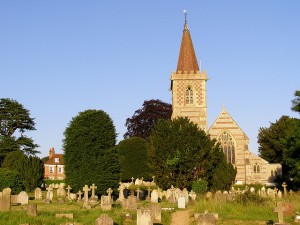 Local resident William Davis lost his way in the dark when travelling home to Twyford on October 7th – when he heard the church bells ringing he could tell that he was off-course as the peal came from an unexpected direction. William pulled up his galloping steed just in time to save them both from tumbling over a nearby precipitous quarry edge. William left a bequest in his will to fund an annual commemoration on the day – the church bells are rung and the bell-ringers have a feast.
Helpful Hints
The bells are rung twice on the day as specified in the will, once before 9.30 am and once around 7 pm – exact timings vary depending on the bellringers.
Click here for the website : https://wpbells.org/twyford/
Photo by Jim Champion.
View larger map