| | |
| --- | --- |
| Where: | Durham city centre - various locations |
| When: | Mid November (every other year,on odd-numbered years) |
| Time: | 6 - 11pm each night |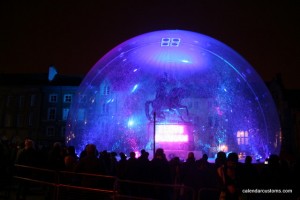 The city centre of Durham hosts a variety of illuminated installations from many worldwide artists and designers in a festival held every other year. The focus is on the peninsula area around Palace Green with the Cathedral itself open as part of the exhibitions – the fabric of the building  is used as a backdrop and the interior was full of lights and music. Other installations are scattered through the city including on the bridges over the River Wear. Visitors attend from all over the world and it's easy to see why – it lights up the dark dull spell before Christmas gets going!
Helpful Hints
Overcrowding can be a problem  – if you're able to, go outside the most popular visiting hours around 7pm. The park and ride service is very handy but may fill up at peak times so if travelling by car be prepared to park outisde the centre and walk in. Take a torch as it seems very dark when you get away from the streetlights. Maps with all the locations marked are handed out on the night or you can download them from the website. It took us 3 hours and we didn't see everything so allow plenty of time (and we went at around 8.30 so we'd have needed longer if we'd been there when it was busiest).
The festival takes place every two years so far on odd-numbered years. In 2017 it ran from Thursday 16th to Sunday 19th November – 2019 dates are yet to be announced.
Click here for the event website : http://www.lumiere-festival.com
View larger map