| | |
| --- | --- |
| Where: | Maldon, Essex at Promenade Park |
| When: | Currently a Sunday in April or May but formerly December/January and Easter Monday & Spring Bank Holiday Sunday |
| Time: | Events from 11 am with race 2pm |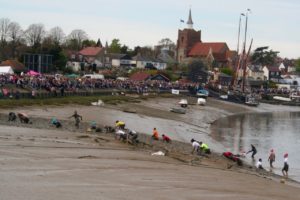 The annual Maldon Mud Race is a charity fundraising events with its origins as a bright idea in the local pub in the 1970s. Competitors, often in fancy dress, must make their way through the mud of the Blackwater estuary and back on a course with a total distance of 400 metres, which no doubt seems much further whilst wading through the slime! Shoes are often lost along with dignity in the struggle to get out, but they are never short of competitors. Individuals and teams can enter and must raise sponsorship money, for a variety of good causes. The timing for this event is all over the place -originally held in late December to January, the date from 2011 shifted to Easter Monday,then Sunday of late Spring Bank Holiday weekend and now a Sunday in late April or May so make sure you check the event's own website to make sure you're there for the right day and at the right hour as the timing depends on the tides!
Helpful Hints
In 2018 it was held on Sunday 10th June, a little later in the year than recently. As the event depends on the tides, the timing can vary and may not be announced until fairly near the due date, though it usually takes place currently during the afternoon,so keep checking the event website.
Click here for the event website : http://maldonmudrace.com/
View larger map