| | |
| --- | --- |
| Where: | Mansfield, Nottinghamshire on Stockwell Gate |
| When: | Good Friday |
| Time: | 10.30 am |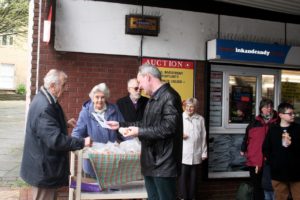 The Good Friday custom of Hot Cross Bun distribution at Mansfield is alive and well today, though comparatively little-known outside the immediate vicinity. It was established in 1907 by charitable resident Mary Mallatratt, who left a bequest in her will to provide the buns for local children; in its heydey huge crowds queued, particularly in times of hardship. Now the bequest doesn't cover the cost but the Trustees still provide subsidised buns, though nowadays they're distributed from a trolley outside in the precinct on the high street rather than at the chapel. Apparently modern children are less keen on the buns than their past counterparts, so even adults are allowed to claim them – three dozen are on offer so turn up early to ensure you get one!
Helpful Hints
The dole used to be given out at the Old Meeting House on Stockwell Gate but recently it moved just slightly along the street (though if the weather is really bad they can always retreat to the chapel). We heard it was outside Asda but while there might have been an Asda store on the site at one time, they have moved to a large new store slightly further out of town and that isn't where the buns are distributed.
In 2018 it will be on Friday 30th March.
Click here for the Old Meeting House Facebook page: https://www.facebook.com/MansfieldOldMeetingHouse/
Many thanks to Ross Parish for the info on this event – click here to read more : http://traditionalcustomsandceremonies.wordpress.com/?s=mallatratt
View larger map