| | |
| --- | --- |
| Where: | Mapleton, Derbyshire at Okeover Bridge |
| When: | Easter Monday (formerly New Years Day) |
| Time: | From 11 am onwards |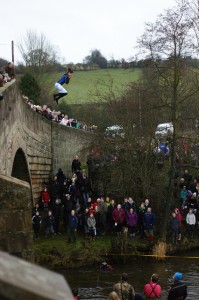 The Mapleton Bridge Jump sees competitors launching themselves from the parapet of Okeover Bridge into the chilly waters of the River Dove about 30 feet beneath; they then swim a short distance and run 500 yards to the finish. It's a charity fundraising eventich dates back well over 20 years. There are prizes for men and ladies in teams of two, and only 20 teams can compete in each race.The Ladies races start at 11 with the Gents following at mid-day – Ladies win the Brass Iron while Gents win the Brass Monkey award!
Helpful Hints
The date is moving to Easter for 2015 so will be held on Monday 6th April. Time will tell if the move is permanent but as the move is to attract greater numbers of both entrants and competitors, it seems likely to be a long-term shift. Mapleton is also spelled Mappleton on some maps and road signs.
Limited places are available so if you wish to compete, enter well in advance. Spectators just turn up on the day to see the fun!
Photo by David on LRM.
View larger map