| | |
| --- | --- |
| Where: | Upper Llangynwyd, Glamorgan at the Old House pub, Yr Hen Dy |
| When: | 1st January |
| Time: | 2pm |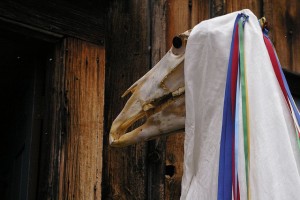 The Mari Lwyd is an ancient Welsh custom which used to be widespread but now survives only in a few places; at Llangynwyd it has survived (with perhaps a very short break) whereas in other locations it is usually a revival of a dormant custom. Mari Lwyd means grey mare, and she takes the form of a decorated horse-skull on a pole operated by a man in a white sheet ; the Mari would be paraded around the district in return for refreshment as a house-visiting custom. A feature of the event was the singing battle between the visiting party and householders, followed by the visitors being invited in for cake. Nowadays the action takes place at the Old House pub (with its sign depaicting the Mari) and the singing is still a feature of this event.
Helpful Hints
Similar customs take place elsewhere, notably at the St Fagans National Museum in the build-up to Christmas.
Click here for the venue website : http://www.oldhouseinn.co.uk
Photo by Onion.
View larger map