| | |
| --- | --- |
| Where: | Marsden, Yorkshire - village centre with Procession start & finish at Wessen Court |
| When: | Saturday in late April |
| Time: | From 10 am with Cuckoo Procession at 3pm |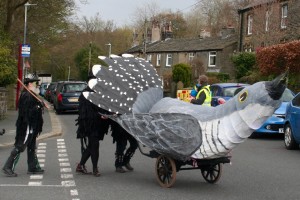 The cuckoo is a harbinger of spring and each year the residents of Marsden mark the welcome change in the season with their Cuckoo Festival. Legend has it that the locals attempted to entrap the bird to give eternal spring to the village but it escaped, as they didn't build their tower quite high enough! The current festival has been running over twenty years. Expect lots of performing arts and dance groups including mummers, stalls, food and plenty of entertainments throughout the day with the Grand Cuckoo Procession in the afternoon followed by a duck race.
Helpful Hints
In 2017 it was on Saturday April 22nd – 2018 date is yet to be confirmed.
Click here for the event facebook page and full programme: https://www.facebook.com/pages/Marsden-Cuckoo-Day-Festival/206185602743782
View larger map