| | |
| --- | --- |
| Where: | Starting at Tockwith and ending at the Battle Memorial |
| When: | Sunday nearest July 2nd |
| Time: | 2pm |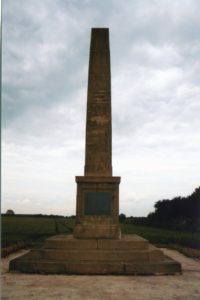 The Sealed Knot commemorate the end of the Royalist cause during the English Civil War with an annual muster and walk to the Battle Memorial, and a wreath laying ceremony in memory of the fallen. The Battle of Marston Moor took place on July 2nd 1644 between the forces of Parliament under the Earl of Manchester and Lord Fairfax together with the army of the Scottish Covenanters, and the Royalists under Prince Rupert and the Marquess of Newcastle. The conflict followed the Siege of York, which drew forces on both sides to the area, and the victory of Parliament at Marston Moor meant that the King lost control of the North of England, with far-reaching consequences. The Sealed Knot mark the anniversary on the nearest Sunday to the battle with a short service at the Monument.
Helpful Hints
In 2017 the event will be on Sunday July 2nd.
Click here for the Sealed Knot website: http://www.thesealedknot.org.uk
View larger map