| | |
| --- | --- |
| Where: | Matlock, Derbyshire at Riverside Derwent Gardens |
| When: | Weekends in September and October |
| Time: | Entertainments from 7pm (Saturdays only), Boat Parade 7.45 pm, Fireworks 9pm (selected nights only - see website link) |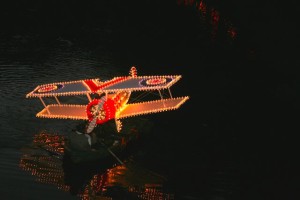 The spa town of Matlock Bath has been lighting up the skies every September and October since Queen Victoria admired the reflections of light on water there at her Diamond Jubilee Celebrations on 1897, following a fondly remembered earlier visit when she was still Princess. Today a flotilla of brightly lit boats takes to the water for a riverborne parade each Saturday and Sunday of the season, with entertainments on Saturdays at the Bandstand and fireworks on selected dates. There is a second Boat Parade at 9.15 on Firework nights only. The first boat in the parade is lit by candles to give visitors an appreciation of how the illuminations would have appeared in Victorian times.
Helpful Hints
Admission is £5 for adults with free admission for disabled visitors and children.
In 2017 the Illuminations ran from Saturday 9th September to Sunday 28th October on Saturdays and Sundays only – 2018 dates are yet to be announced ( check website link for details of firework nights).
Click here for the event Facebook page:https://www.facebook.com/matlockbathilluminations/
and here for a first hand account:  http://traditionalcustomsandceremonies.wordpress.com/?s=matlock
– many thanks to Ross Parish for drawing this event to my attention!
View larger map