| | |
| --- | --- |
| Where: | Matlock, Derbyshire - on River Derwent with start at Cawder Quarry and finish at Cromford Meadows |
| When: | Boxing Day 26th December |
| Time: | 10am |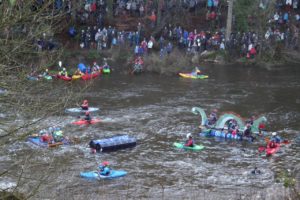 Matlock Raft Race began in the early 1960s to raise cash for the RNLI, and every Boxing Day 4o or so craft begin the race over a four-mile course along the River Derwent. The rafts are an assortment of home-made vessels, some made for racing and others for comic effect with their crew in appropriate fancy dress. It is usual for some to sink or disintegrate long before the finish, particularly near the hazard of the weir by Masson Mill! Viewing is possible from the banks for most of the route and spectators bombard the craft with flour bombs while their victims retaliate with water jets. There are other raft races in the UK but this is one with a long pedigree and takes place annually – though the 2010 event had to be cancelled owing to trees and branches making the course unsafe.
Helpful Hints
Spectators get a good view from most of the river bank – popular spots are Matlock Bridge and Masson Mill. Parking is freely available at Cromford Meadows by the rugby club near the finish (though be careful of soggy patches on the grass- we saw one car stuck there in 2017!). It's possible to view from pavements along the route but if you want to watch from the grassy side take some wellies. Expect a crowd of thousands.
Participants just need to turn up with a raft and £15.00 per person entry fee. The race starts at 10.00am so you need to be there before then to get your raft in the water ready for the start. Access to the start is in the old Cawder quarry, just to the right of the Sainsbury's entrance. Thanks to Terry for this helpful information – he's been doing it for 20 years and says it's great fun!
The current event organiser Matthew can be contacted by emailing mceyre@hotmail.co.uk
Click here for the event website : http://www.matlockraftevent.co.uk