| | |
| --- | --- |
| Where: | Melrose, Borders - Rideout from Greenyards (good view from Market Place at 6.05 pm), Coronation at the Abbey |
| When: | 3rd Week in June - Rideout Monday, Coronation Thursday. |
| Time: | Rideout 6pm, Coronation 7pm |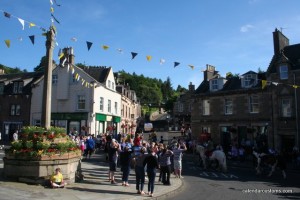 The annual festival at Melrose combines all the typical elements of the traditional border summer celebrations with a Common Riding, Festival Queen, sports and fancy dress.Common Ridings are a boundary marking custom on horseback. They are mainly held at locations across the Scottish Borders, perhaps because this area suffered from centuries of raiding and reiving between local families and the English, and the locals needed to protect their lands from encroachment. Long after this was necessary, the Ridings survived to become major festivals and a great day out! The Rideout at Melrose is on the Monday, leaving Greenyards at 6pm and returning to town by around 9.30 while the Queen is crowned on Thursday at Melrose Abbey. There are several associated events including Fancy Dress and a Bicycle Ride as well as  the Tour of Ceremonies which involves the main participants processing around the locality, followed by sports and dancing.
Helpful Hints.
In 2017 it runs  from Sunday 18th to Saturday 24th June with the Rideout on Monday 19th and the Crowning on Thursday 22nd.
In 2018 it runs from Sunday 17th to Saturday 23rd June with the Rideout on Monday 18th and the Crowning on Thursday 21st (to be confirmed).
If the  Festival Programmes at the local shops sell out you can get an abbreviated timetable from the Tourist Information Centre with all the main fixtures listed.
Click here for the website : http://www.returntotheridings.co.uk/melrose.html
View larger map