| | |
| --- | --- |
| Where: | Middlewich, Cheshire - town centre, canalside and stage in Market Field, off Lewin Street, Procession from Tesco's carpark |
| When: | Weekend in Mid-June |
| Time: | From 7.30 on Friday; activities from 10 am Saturday and Sunday with Procession at 12 noon Saturday. |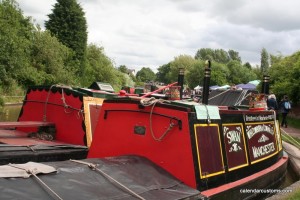 The annual Folk and Boat Festival has been running for over twenty years and combines a wide variety of traditional music  and dancing with the canal boat heritage of the area. There will be visiting barges with their distinctive artwork, lots of singers, songwriters, dancers and musicians and plenty of good food. There are also stalls, a funfair and heritage exhibitions around town. Expect a procession of Morris Dancers on the Saturday and dancing throughout the event.
Helpful Hints
We found the parking a little challenging (partly because one of the main carparks in town is taken over by the festival!) but if you follow the signs towards the festival camping area it's fairly easy to find a space.
There is music and food to suit all tastes – we particularly liked the Backyard Devils and the Spanish doughnuts.
In 2017 it took place over the weekend of 16th, 17th and 18th of June – 2018 dates are yet to be confirmed.
Check the link (below) to the excellent website for exact details of timings etc.
It's largely a free community event with plenty to do for all age groups and all are welcome – charges are made for the performances indoors.
Click here for the event website : http://www.midfest.org.uk/
View larger map