| | |
| --- | --- |
| Where: | Hepstonstall, Weavers Square |
| When: | Good Friday |
| Time: | At intervals from 11am |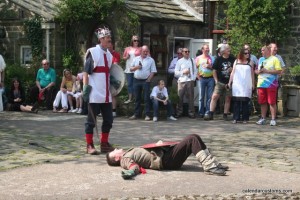 Pace Egging Plays are traditional mumming plays with their own unique character and are performed during Eastertide, mainly in the north-western corner of England. They are typically hero-combat plays with fight scenes and the revival of one protagonist by a doctor but also have some unique songs and characters like Tosspot who don't appear anywhere else. The name comes from the players or their attendants in past years begging for eggs for the Easter season. One of the best known teams comes from the Calder Valley High School at Midgley, who have unique Pace Egging hats and perform every Good Friday in the village, and also at nearby Heptonstall in the afternoon (usually at 3pm). Heptonstall has its own team of players and they can also be seen at Weavers Square at intervals through the day from 11 onwards so you can seen two forms of the play in one go!
Helpful Hints
Good Friday falls on March 30th in 2018.
The streets around Weavers Square are narrow and steep – we found temporary signs for carparking useful in 2012 so watch out for them.
Click here to find out more : http://www.hebdenbridge.co.uk/news/news09/56.html
and here for up-to-date info : http://www.mastermummers.org/groupslist.php then select Hebden Bridge Players and Midgley from the drop-down list of Groups. Mummers are notoriously slow in passing on their current schedule of upcoming performances but they usually stick to the same timings and places in this case so checking out their past performances will give you a good idea of what to expect.
Find the 2017 schedule at http://www.hebdenbridge.co.uk/news/2017/064.html
View larger map