| | |
| --- | --- |
| Where: | Throughout Cornwall starting at Carn Brea |
| When: | 23rd June |
| Time: | From sunset onwards |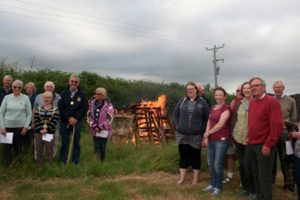 The Midsummer Fires are a revival, dating back to the 1920s, of the ancient custom of  pagan firelighting at the longest day; it's believed that the date was moved slightly from the Solstice many years ago to St John's Eve, to fit in better with the church calendar. A chain of beacons is lit starting at Carn Brea near Lands End and ending near the Devon border, though currently it isn't possible to see the adjacent bonfires from all sites. Prayers are said in Cornish (if a Cornish speaker is available, which isn't always the case!) before the beacons are lit, and herbs and flowers are cast into the flames. Expect local dignitaries with small crowds of perhaps around 100 people at each site, with blessings and enthusiastic singing of the Cornish anthem Trelawney. The events are organised by the Federation of Old Cornwall Societies, who do so much to keep Cornish traditions alive.
Helpful Hints
Make sure you go on Midsummers Eve (23rd) not Midsummers Day! Follow the link to the Federation's website below, where you can link to the various branches throughout the county to check the varying times and locations of the current fires – not every branch hosts one so double-check to plan your visit. In 2017 we visited Liskeard, where the fire is lit at 6.30 at Bolitho Farm- we were made very welcome by the crowd and were treated to saffron buns and tea afterwards.
Click here to visit the website : http://www.oldcornwall.net
View larger map