| | |
| --- | --- |
| Where: | Minehead |
| When: | May 1 (and the days around it to a lesser extent) |
| Time: | All day from 5am at the Quay |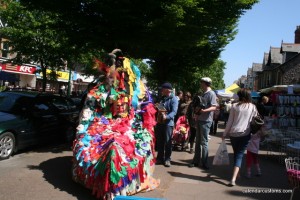 May Day in Minehead is the main event for the two Hobby Horses who tour the town : the Sailors Horse and the Town Horse. They are 8 foot long canvas covered frames carried by masked men, with swinging rope tails. The history  of the custom dates back hundreds of years and they perform over a short season starting on April 30th accompanied by musicians and money-collectors called Gullivers. On April 30th they start off at 6pm at the Quay outside The Old Ship Aground pub; on May 1st the action starts from dawn also at the Quay, followed by a tour of Dunster from 6pm at the Butter Cross; on 2nd and 3rd they meet at 6 again at the Quay.
Helpful Hints
The Horses never appear on Sundays (it's their day of rest) so if the festival period covers a Sunday, it is missed out and proceedings begin again on the Monday instead. If you're in the area just turn up and hunt around in the High Street/Harbour area and listen carefully…if you hear music with melodeon and drums run after it and chances are you'll find them.
To find out more click here : http://www.minehead-online.co.uk/hobbyhorse.htm
and for a video of the Town Horse click here (thanks to Hayden England for the video): http://www.youtube.com/watch?v=151FiRCKCbg
View larger map