| | |
| --- | --- |
| Where: | Moffat, Dumfriesshire on the High Street |
| When: | A Sunday early to mid August |
| Time: | 12 noon |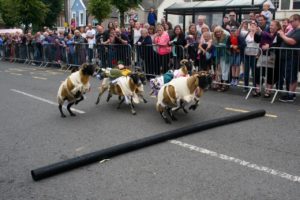 Moffat has a long standing association with sheep – there's even a huge statue of a Ram in the Market Place – but today's association has less to do with the wool trade and more to do with woollen jockeys riding their ovine steeds in the fast and furious Sheep Races held each August. The event began in 2012 so is a relative newcomer to the annual calendar, but is proving very popular with locals and visitors alike. There's also a Farmers Market and other attractions on the day, and betting is available for those who like a flutter. There are several heats followed by a Grand Final for all the heat winners. The real stars of the show, apart from the speedy sheep themselves, are the characterful knitted jockeys.
Helpful Hints
The date varies a little but it's always a Sunday in early to mid August. In 2017 it will be held on Sunday August 13th.
The jockeys can be viewed up close at the foot of the Ram statue before the races begin.
Click here for the event Facebook page: https://www.facebook.com/moffatsheepraces/
View larger map