| | |
| --- | --- |
| Where: | Penzance, Cornwall starting at St Mary's Church on Chapel Street |
| When: | 21st December |
| Time: | From noon with main Procession 6pm |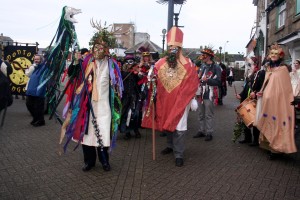 The Montol Festival is an annual midwinter celebration timed to coincide with the winter solstice; the name comes from an old Cornish word meaning the turning point of the year. The main event is the procession on the 21st with traditional Guise Dancers, a Lord of Misrule, mummers, Penglaz the Hobby Horse, lanterns, a river of fire and a variety of musicians and dancers. Though a recent addition to the calendar, it incorporates many traditions and customs from Cornish heritage, some of which are suitably sinister and mysterious, befitting the dark days before Christmas. There's a sundown parade at 4pm followed by the main festivities which begin at 6 o'clock at St Mary's Church on Chapel Street with a family community event featuring a procession, food and drink, guising, dancing, carol singing, a Mummers Play, and Cornish Carols then the burning of the sun. At 10pm a torchlit procession forms leading to a lit Beacon for more merry making and the Chalking of the Mock and the bonfire. The Mock is a yule log and it's an old Cornish tradition to mark it in chalk with a stickman before it's burned – chalking the Mock is considered an honour. There are concerts, entertainments and film shows in the build up to the main event.
Helpful Hints
When we went in 2015 the timings went adrift during the mid-evening but were back on track later on.
Many of the entertainments feature fire so if you're nervous about naked flames take extra care – also beware of drips of wax if you're in the torchlit procession (it took us ages to pick the bits off!). Dressing appropriately is encouraged – mock posh outfits, beribboned hats, face painting and masks are all the fashion for the festival. It can be muddy underfoot at the first fire site.
For a full programme check out the event's own page (link below).
Click here for the event Facebook page: https://www.facebook.com/montolfestival/
View larger map