| | |
| --- | --- |
| Where: | Morpeth, Northumberland at the Clock Tower off the Market Place |
| When: | Daily |
| Time: | 8pm |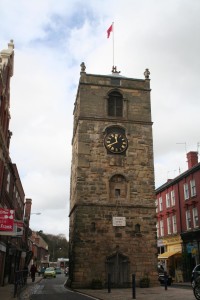 The little figure of the Morpeth Gadgy sits atop the Clock Tower at Morpeth, presiding over the daily ringing of the Curfew. The 55-foot high tower contains the oldest civic peal of bells in the country and they still ring every night at 8pm. In the past it was common pratice for a curfew bell to be rung, to let people know it was time to cover their fires and get to bed. Morpeth is one of the select few places where this still happens though shockingly in 2015 when we visited there were still people in the street after the bell had rung!
Helpful Hints
The bells have been pealing here for over 300 years.
Contact Prof. Dye on the bellringers page (see link below) if you're planning on travelling to hear the curfew as occasionally they have problems getting volunteers to keep it going!
Click here for the bell ringers' website : http://www.northumberlandlife.org/mb
View larger map