| | |
| --- | --- |
| Where: | Morton, near Southwell in Nottinghamshire at St Denis' Church |
| When: | Sunday in early to mid January (near Plough Monday) |
| Time: | Blessing 10.30, Dancing from Noon |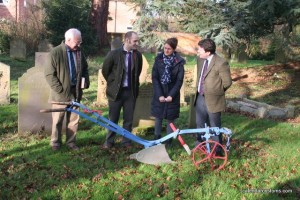 Plough Monday was the day upon which agricultural workers returned to the land and they marked the occasion by disguising themselves and touring their local district dancing and performing plays for largesse (see Plough Monday article). At Morton the present day celebrations are hosted by Sullivan's Sword and are held on a Sunday near Plough Monday to make it easier for spectators to attend. The day begins with a traditional Blessing of the Plough service at St Denis' Church in Morton (which in 2014 included some excellent performances by the talented musicians of Sullivans Sword) followed by refreshments in the Church Hall across the road, then Sullivan's Sword and visiting Morris sides like Rattlejag perform through the afternoon before retiring to local hostelries for further music and entertainment. Sullivans Sword also perform the Farnsfield Plough Play which is a traditional mummers play including a death and revival and colourful characters (literally!) like Beelzebub and the Recruiting Sergeant.
Helpful Hints
Dancing starts  at Noon until dusk around local villages (check Sullivan's Sword website for timings). In 2018 it will be on Sunday January 7th.
Some of the performers will also be out on Plough Monday (check links for details).
For Sullivan's Sword click here : http://www.sullivanssword.co.uk/
For Rattlejag click here: http://www.rattlejagmorris.org.uk/
For more on Plough Monday click here: http://www.ploughmonday.co.uk/
Many thanks to Moira Ruff for all the photos without the calendarcustoms watermark!
View larger map