| | |
| --- | --- |
| Where: | Much Marcle, Herefordshire at The Bounds |
| When: | Saturday near January 6th |
| Time: | 6.30 pm |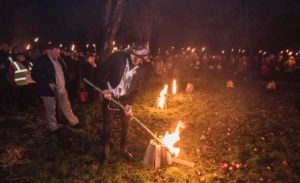 Wassailing is a traditional luck-bringing custom associated with apple orchards dating back at least a few hundred years; the word has its origins in the Old English toast "waes hael" meaning Good Health. Revivals are particularly common in cider producing areas such as the West Country and Herefordshire and are usually in mid-January but can take place as early as the run-up to Christmas. Expect singing, morris dancing, cider offerings to the trees (and in some cases pieces of toast), beating the branches and lots of noise including firing shotguns into the trees to wake them up. There are a few traditional carols associated with wassailing and if you're lucky a wassail bowl will be passed around containing a warming drink. Some wassailing ceremonies are listed separately in the tables as they have either a long tradition or a unique aspect to them. In Herefordshire you may see the Burning of the Bush and Herefordshire lanterns and the Much Marcle Wassail at Westons Cider, which is organised by Silurian Morrismen, usually has these elements, followed by a Wassail Supper (supper needs to be booked in advance as space is limited).
Helpful Hints
It's on a Saturday near 6th January. In 2018 it will be on January 6th.
It's organised by Silurian Morris – click here for their website: http://www.silurianmorris.org.uk
and by Westons Cider – click here for their website: http://www.westons-cider.co.uk
Many thanks to Dale Martin for the splendid photos from 2017!