| | |
| --- | --- |
| Where: | Newark on Trent, Notts in the Market Place outisde the Queens Head and North Muskham, Notts at the Ferry Inn on Ferry Lane |
| When: | Saturday in early January |
| Time: | 12 noon- 12.15-ish at Newark, 1.30-ish at North Muskham (timings may be a little flexible!) |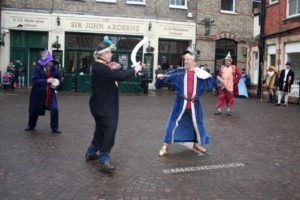 The Muskham Pinkies are keeping their mummers Plough Play alive in January each year, carrying on a tradition dating back to the sixteenth century and probably beyond. Their play is a hero/combat wooing play with a revival by the Doctor and is performed in rhyme with characters such as the Recruiting Sergeant, Thrashing Blade and Eezum Squeezum. Also expect dances by Rattlejag Morris, who are particularly associated with Plough Monday celebrations and whose name comes from the rattles that the plough boys used to enhance their dancing.
Helpful Hints
The performance of the play lasts around ten minutes and it's usually carried out twice at Newark and once at North Muskham. In 2017 the group performed two different plays interspersed with dances from Rattlejag and the performances lasted just over half-an-hour altogether.
It moves a little in date from year to year, but is usually the first Saturday of the month. In 2018 it will be on Saturday 6th January.
Click here to find the full schedule (select Muskham Pinkies) : http://www.mastermummers.org
Click here for Rattlejag's website: http://www.rattlejagmorris.org.uk/
View larger map