| | |
| --- | --- |
| Where: | Musselburgh, Lothian - Festival Rideout starts at Pinkie House & returns to the Old Town Hall on the High Street; Harbour Ceremony at Fisherrow Harbour; Riding of Marches Procession starting at Linkfield Road |
| When: | Late July for a week |
| Time: | Festival rideout 8am with return approx 12.30pm; Harbour Ceremony 5pm; Riding of Marches Procession from 10am |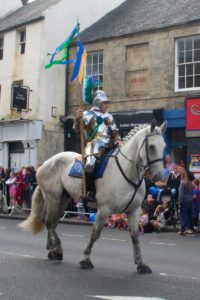 Every July the "Honest Toun" of Musselburgh celebrates its heritage and traditions with a Festival and every 21 years a full Riding of the Marches takes place; the Festival was launched in part to fill the long gap between the Ridings. The modern festival dates back to the 1930s but there's written evidence of the Riding from 1682 and its origins may well lie even further back in time. The festival is a typical Borders civic week with ride-outs, sports and games, music including special songs for the Festival and lots of other entertainments for all ages. Common Ridings are a boundary marking custom on horseback and at Musselburgh the Principals are the Honest Lad and Lass, who lead the cavalcade around the boundaries. The ridings are mainly held at locations across the Scottish Borders, perhaps because this area suffered from centuries of raiding and reiving between local families and the English, and the locals needed to protect their lands from encroachment. The full Riding of the Marches includes a Proclamation at the Mercat Cross and a cavalcade around the boundaries accompanied by much pageantry and piping with turf cutting at set locations en route, halberdiers, a champion and squires.The town's fishing heritage is commemorated by the Harbour Ceremony in which the Principals take to the sea in a fishing boat accompanied by appropriately maritime music; on their return they dance reels and eat mussels, from which the town's name is derived.
Helpful Hints
The Festival usually takes place over a week in late July. During 2016 the Festival took a break for the Riding of the Marches but will return in 2017  from Sunday 23rd to Saturday 29th July with the Harbour Ceremony on the 23rd and the Rideout on Saturday 29th.
The next full Riding of the Marches will be in 2037. The photographs are from the Civic Procession in 2016, which was a mile long and took about three-quarters of an hour to pass by.
Click here for the Festival facebook page : https://www.facebook.com/Musselburgh-Festival-133944419959403/timeline/
Click here for the Festival website: http://www.honesttoun.co.uk/index.html
Click here for the Riding of the Marches website: http://www.rom2016.co.uk
View larger map
View larger map