| | |
| --- | --- |
| Where: | Cambridge University |
| When: | A Weekend in October or November |
| Time: | From 10am |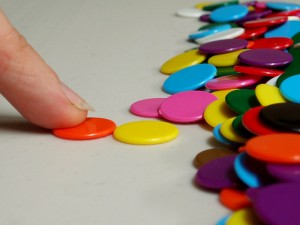 Tiddlywinks is a Victorian parlour game involving flipping coloured counters into a container – it has more complex rules than you might imagine and a plethora of terminlogy. Winks are the counters, the disc used to flip them is called a squidger….and that's just for starters. Games last 20 minutes with the winner being the player who scores most during the time limit ; during the tournament points are cumulative and the overall champion receives a trophy. It's organised by the English Tidlywinks Association, who also arrange other tournaments through the year (see website link for details).
Helpful Hints
It's a real competition so you need to be available all weekend and have a working grasp of the rules.
In 2017 the pairs tournament was held on Saturday 28th and Sunday 29th October at Downing College – 2018 dates are yet to be announced.
Click here for the event website : http://www.etwa.org/
Photo by Kaptain Kobold.
View larger map