| | |
| --- | --- |
| Where: | Durham at the Cathedral |
| When: | Saturday near 29th May (often in June) |
| Time: | 6.45pm approx. |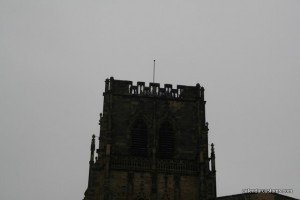 The Battle of Nevilles' Cross took place just outside the city of Durham in 1346 between the army of the Scots under King David II and Edward IIIs English forces. As part of the build-up to the fight the English soldiers were treated to bell-ringing and masses being sung from the Cathedral tower and for many years their victory has been commemorated by the singing of anthems from the top of the Tower by the Cathedral choir. Nobody seems able to explain why the anthem singing was traditionally on 29th May rather than on the anniversary of the battle in October, but perhaps there was some mix-up with later Oak Apple Day festivities (see separate article). The event still occurs annually after Festal Evensong, though the date has moved to a more convenient Saturday near the 29th to fit in with the AGM of the Friends of Durham Cathedral and the holidays of the choir.
Helpful Hints
In 2017 it took place on Saturday 3rd June – 2018 date is yet to be announced.
The choir sing from three sides of the Tower – there are legends that a chorister fell off the west side whilst singing or that the fearful monks didn't want to face the battle in that direction, but I have it on impeccable authority that the first of these at least is untrue. Most visitors assemble on the South side, where the singing ends. The whole thing just lasts a few minutes but in spite of that a number of spectators, who were definitely old enough to know better, chattered all the way through it in 2011 (even after editing you'll be able to hear some of this on the video!). If you look carefully at the photo, you'll be able to see the choristers behind the parapet – I should have taken a long lens.
Click here for the Friends' website: http://www.fodc.co.uk
View larger map