| | |
| --- | --- |
| Where: | Newark-on-Trent, Nottinghamshire at St Mary Magdalene Church on Church Walk |
| When: | Sundays in October and November |
| Time: | 5pm-6pm |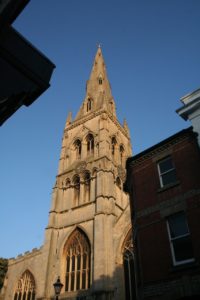 A handful of traditional UK customs relate to thanksgiving after a lucky escape, and the ringing of the Gopher Bell at Newark is one of them. Legend states that Flemish merchant Gopher lost his way over 300 years ago on a dark winter night; he prayed for deliverance and immediately heard the bells of St Mary Magdalene Church ringing in the distance. He followed their sound to safety and set up a charity for the bellringers to ring a peal to help other travellers in perpetuity and nowadays the Gopher Bells are rung on six consecutive Sundays in  October and November, usually starting on the 12th Sunday before Christmas.
Helpful Hints
In 2018 the first day the Gopher Bell will ring will be October 7th and the last November 11th (to be confirmed nearer the time!).
In 2017 the first day the Gopher Bell rang  was October 1st and the last November 5th (this was a week earlier than usual, and was because of the way the days of the week fall, with Christmas Eve being  a Sunday).
The Church is also host to the Penny Loaf sermon (see separate post for details).
Click here for more info : http://southwellchurches.nottingham.ac.uk/newark-st-mary/hintro.php
Click here for church contacts: http://www.achurchnearyou.com/newark-st-mary-magdalene/
View larger map