| | |
| --- | --- |
| Where: | Newbiggin by the Sea, Northumberland starting at St Bartholomew's Church Cottage on Front Street and heading onto the Golf Course |
| When: | 3rd Wednesday in May |
| Time: | 9.30 |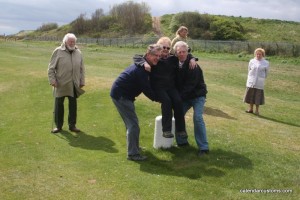 The Freeholders of Newbiggin hold their annual boundary marking walk on the third Wednesday in May each year, and if they have a new Freeholder present, that person gets "dunted" three times on the dunting stone situated on the golf course on the eighth fairway (it's a bit like being given the bumps). A short ceremony takes place at the Dunting Stone and the boundaries are inspected on the course of the walk. Newbiggin was an important port in days gone by and the right to be a Freeholder was a much sought after honour ; the benefits included harbour tolls and land rentals as well as prestige. The Freeholders give out nuts during the walk, which lasts about 2 hours and ends at 11.30 before their AGM.
Helpful Hints
The original Dunting Stone was vandalised many years ago and its site is marked by a white concrete pillar. The walk takes place every year, usually but not invariably on the 3rd Wednesday in May, but dunting only happens if a new freeholder is present – in 2013 there were two new Freeholders. It starts on Front Street not far west of the Post Office and it's recommended that you meet the group at the beginning, as finding the Dunting Stone will otherwise be a challenge. It's a relatively easy walk with a stile and a couple of slopes – beware of golf balls! The crowd is small but very welcoming.
In 2018  it takes place on Wednesday May 16th .
View larger map