| | |
| --- | --- |
| Where: | Newcastle Town Moor |
| When: | Last Week in June |
| Time: | All day & evening |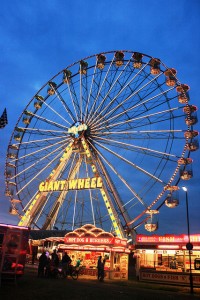 Funfairs aren't usually included in my table of events but this is my biggest local event of this kind and is indeed the largest travelling funfair in Europe (according to the Hoppings website!). It's been held since 1882 and was originally a Temperance Fair to lure the good folk of Newcastle away from the temptations of gambling and drinking at the local Race Week on Newcastle Racecourse. Expect plenty of rides, booths, sideshows, candyfloss, fortune tellers, music, crowds and all the fun of the fair.
Helpful Hints
Plenty of on-site parking – follow the road signs. It can be muddy or very dry underfoot depending on the season so adjust footwear accordingly. Take lots of change with you for the food & rides!
In 2017  it ran from Friday 16th to Saturday 24th June – 2018 dates are yet to be confirmed.
Click here for the event website : http://www.hoppingsfunfairs.com/
and here for the facebook page : https://www.facebook.com/pages/The-Hoppings/93454928516
Photo by Mafleen.
View larger map