| | |
| --- | --- |
| Where: | Newtongrange, Midlothian with Parade starting at The Square and Crowning at Newtongrange Public Park |
| When: | 2nd Saturday in June |
| Time: | 1pm Parade, 1.45 Crowning |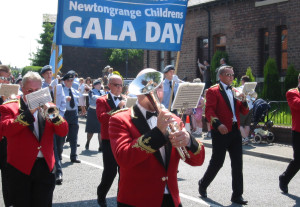 The Gala Day at Newtongrange was founded a hundred years ago and involves a week of festivities in the lead-up to the big day, as well as a church service on the sunday after the Gala. On Gala Day, The child King and Queen with their Court are driven around the village at the head of the procession accompanied by music from massed bands, before a Crowning Ceremony at the local park. Entertainments and childrens activities take place during the afternoon at the park. Other events during the lead-up week include dancing, music, sports and events like a treasure hunt (see event website for full details ). Local residents also compete for a prize for the best decorated house during the festival.
Helpful Hints
In 2018 Gala Day will be Saturday 9th June.
In bad weather, the Crowning Ceremony is scheduled to take place in the Church Hall (still at 1.45) and a notice should advertise this in the window of the Post Office on the day.
Click here for the event website (this link appears to be broken Feb 2016 but have retained in case it gets fixed): http://www.newtongrangegala.com/  
and here for their Facebook page : https://www.facebook.com/newtongrangegala/
For a detailed history of the event, read Alan McLaren's "The History of Midlothian's Festivals" available fromwww.loanheadgaladay.co.uk
Photo by Alan McLaren.
View larger map