| | |
| --- | --- |
| Where: | All around Northumberland including Langley Castle near Haydon Bridge |
| When: | 27th May and near dates |
| Time: | Various - see website link for details |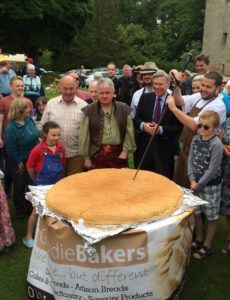 As England's most Northern county, Northumberland has much to celebrate and a new event has been launched "to generate pride in everything Northumbrian, past and present, from culture, heritage and arts and crafts, to food and drink, landscape and sporting and community life". The very first Northumberland Day was in 2017 and a wide range of events took place all around the country including flag raising, walks, concerts, markets and much more. Langley Castle near Haydon Bridge was at the forefront of the activities as one of the instigators of the event is the owner of the Hotel; there was falconry, storytelling and the unveiling of the World's Biggest Stottie. If you're unfamiliar with this Geordie delicacy, it's a type of flat bread bun and is delicious particularly with the traditional filling of ham and pease pudding, which is how it was served at the Castle.
Helpful Hints
Northumberland Day itself is May 27th in 2018 but a range of activities and events take place around it, mainly on the Spring Bank Holiday weekend near the day – check the link below for details.
Click here for the event website: http://www.northumberlandday.net