| | |
| --- | --- |
| Where: | Northwold, Norfolk starting at the Crown Inn on the High Street and processing to St Andrews Church |
| When: | Plough Monday |
| Time: | From 7 pm with procession leaving pub for the church at 7.20 -ish pm |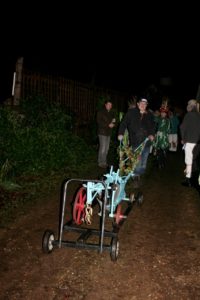 Plough Monday was traditionally the day upon which agricultural workers resumed their labours following the excesses of the Christmas season, and it was marked by celebrations of its own including participants parading the tools of their trade through local settlements and demanding rewards for doing so. It is the first Monday following 6th January (often known as Twelfth Night). At Northwold the festivities were revived during the 1980s and the procession to the church to bless the plough is followed by molly dancing and mummers plays. It starts off at the local pub, where the plough is retrieved from the beer garden and wheeled down to the church gates for a blessing,followed by a torchlight procession of dancers and audience. The blessing takes place at the lychgate and the dancers and mummers take turns to perform right outside. It's a joyful celebration and the whole village appears to turn out for it! After the performances outside the church, the procession makes its way back up the road to the farmyard and ultimately the pub (though sadly we had to miss the end owing to our long journey home with work next day).
Helpful Hints
In 2018 it will be on Monday January 8th. It was a little later than we expected from the newsletter, with the procession setting forth at around 7.20 from the pub.
It's organised by King's Morris – click here for their website: http://www.kingsmorris.co.uk/ 
Click here for Misfit Molly Dancers' face boo page: https://www.facebook.com/Misfit-Molly-354414241241661/
For more on Plough Monday click here : http://www.ploughmonday.co.uk/
For the church website click here : http://www.grimshoebenefice.com/northwold.html
For the pub contacts, click here : http://www.pub-explorer.com/norfolk/pub/crowninnnorthwold.htm
For the village news (with details of the event in the Christmas issue of Village Life newsletter), click here : http://www.northwold.net
View larger map