| | |
| --- | --- |
| Where: | Nottingham at the Forest Recreation Ground |
| When: | Early October for 5 days (Wednesday to Sunday) |
| Time: | Wednesday from 5.30 - 11pm, other Weekdays 11am-11pm, Sunday 1pm-9pm |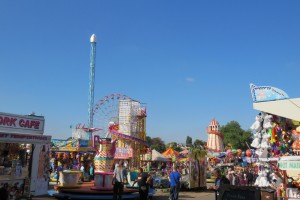 Geese may be in short supply at the Nottingham Goose Fair, but it's still going strong after 700 years. It was so called because this was the best season to eat goose in England and thus also the best time to market them – the origins of the fair date back to the thirteenth century and probably beyond. It is now one of the largest funfairs in the UK so expect plenty of rides (over 500!) including traditional helter skelter and gallopers as well as more modern white-knuckle rides, thrill-seekers, food and goods stalls,  and entertainment. The fair runs currently for 5 days and ends on the Sunday- nowadays it's held at the Forest Recreation Ground as there's plenty of room to fit everything in.
Helpful Hints
The unique foodstuff for the event is minty mushy peas and these are easily available at the fair – just follow the minty aroma and don't forget to add your own mint sauce to taste! Also available is the Cock on a Stick (should be Goose ?) which is a unique sweet confectionary and  a traditional part of the fair.
Look out for the large Goose who appears on a plinth on the Mansfield Road about a week before the fair to remind everyone what's coming. He needs no words!
Parking was available nearby at £5 in 2015 and was well signposted off Gregory Boulevard.
In 2017 the fair ran from Wednesday 4th October to Sunday October 8th – 2018 dates are yet to be confirmed.
Click here for the webpage: http://www.nottinghamcity.gov.uk/events-markets-parks-and-museums/events-in-nottingham/
View larger map