| | |
| --- | --- |
| Where: | Formerly at Nottingham, inside the Castle now at pubs around Beeston |
| When: | Formerly Weekend near Plough Monday now late in month |
| Time: | Formerly 2pm & 3pm now evening from 8.15 approx |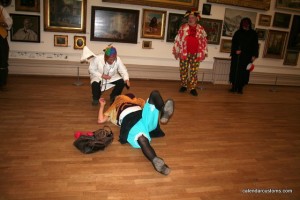 Plough Monday was traditionally the day upon which agricultural workers resumed their labours following the high jinks of the Christmas season, and it was marked by celebrations of its own including participants parading the tools of their trade through local settlements or performing plays and requesting rewards for doing so ( a bit like trick or treat, the implicit threat being that if you were mean the team might plough up your garden!). The East Midlands is the area in which these festivities are most enthusiastically celebrated with a number of current revivals  which included one at the castle in Nottingham which took place on a weekend near to Plough Monday. This example was particularly good for young families as the majority of other performances are based in pubs and many are performed in the evenings (see separate articles for individual events). Local morris side the Foresters performed the traditional play which featureed a hero/combat scenario with characters such as the Doctor, Fool and Recruiting Sergeant and some very hirsute ladies…Fellow dancers Greenstep Clog showed off their steps before & after the plays – their clogs really rattled on the wooden floor! The plays still get performed by the Foresters but in a more conventional pub setting – see Helpful Hints.
Helpful Hints
As the performance formerly took place inside the gallery in the castle, normal admission charges applied. This and the large size of the venue made it easy to get a good view!
Now you can find performances by the Foresters at Beeston – in 2018 it will be on Saturday 6th January ( to be confirmed -check their website for full schedule).
Plough Monday is the Monday following January 6th/Twelfth Night and the Nottingham Castle performances were on a weekend near this date. The event is took a break in 2015 as the Council were short of cash and no dates were planned since so I conclude that, for now at least, the Castle custom has lapsed.
For the Foresters website click here : http://www.chezfred.org.uk/for/
For Greenwood Clog click here : http://www.chezfred.org.uk/gwd/
For Nottingham Castle click here: http://www.nottinghamcity.gov.uk/article/22175/Nottingham-Castle
View larger map