| | |
| --- | --- |
| Where: | Old Weston, Cambridgeshire at St Swithins Church on Brington Road |
| When: | Sunday near 15th July |
| Time: | 4pm |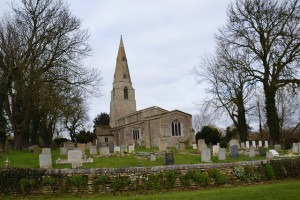 On the Sunday nearest St Swithins Day the church at Old Weston holds its Patronal Feast and the floor is strewn with hay. This is closely related to the rush-bearing ceremonies and celebrations of North-West England, and is an example of a survival of the festivities surrounding the renewal of  the floor covering in church. In the days before stone-flagged floors, rushes were a useful way of keeping the surface relatively clean and a few places still carry out the old tradition of replacing them annually. The church was left a field from which the hay harvest was taken in a bequest but nowadays it's bought in and the field is let with the profits used to fund local charities.
Helpful Hints
St Swithins Day is July 15th (see separate article) and in 2018 the Patronal Service will be on Sunday July 15th – it's a special service to include animals.
Click here for church history & contacts : http://www.achurchnearyou.com/old-weston-st-swithin/
and here (though last time I  checked this link didn't open):
http://www.old-weston-past-and-present.com/st-swithins-church.html
Photo by Sunchild57.
View larger map