| | |
| --- | --- |
| Where: | Ottery St Mary, Devon - town centre |
| When: | 5th November (if the 5th is a Sunday it's held on Saturday 4th) |
| Time: | From 4pm until midnight ; Bonfire 6.30pm |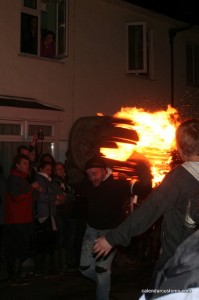 Every 5th November the streets of Ottery St Mary are lit by blazing tar barrels, carried by the residents of the town; the barrels weigh 30kg and are carried at great speed, so watch out! The origins of the custom are believed to date back to the Glorious Revolution of 1688; this may help explain why it happens on that other great Protestant celebration date of Guy Fawkes Night but no-one knows for sure. From 4 pm there are smaller barrels for children and ladies, then a huge bonfire is lit near the riverbank at 6.30 and the mens barrels start to appear in turn around 7.30 pm. Each barrel is sponsore by a pub and lit outside it, and the action takes place around The Square, Mill Street and Yonder Street area. As if this wasn't enough to brighten the darkest of November evenings, there is also a funfair and the firing of the Rock Cannons. These are hand-held minature cannon and are fired at 5.30 am,  around 1pm and 4 pm and they are very loud! If you want to find them, just look out for groups of people striding purposefully around town in hi-vis jackets….or listen for the bangs then follow the smoke.
Helpful Hints
When the 5th falls on a Sunday the Tar Barrels will be held on Saturday 4th. This was the case in 2017 and isn't due to happen again for several years.
The Tar Barrels attract huge crowds (up to 20,000 people). Parking is strictly controlled – follow the signs and expect to pay £10 per car, which is used to help fund the next years' show. There will also be on-street collections as this is an expensive event to run. Sparks can fly so don't wear anything too good and be prepared to dodge the flames; there are plenty of rumours about health and safety bans so stay safe and don't give "them" a good excuse to control the event and spoil it. Marshalls are on hand to ensure everything runs smoothly and programmes are given out on the day with exact timings and locations. We found that the crush was greatest for the 7.30 barrel, but pressure eased later on – it's very easy to keep away from the flames if you don't want to get scorched but watch out for underfoot litter which can be hazardous. Expect a bit of waiting around between times , so wrap up well. We thoroughly enjoyed it – the bonfire was the biggest I've ever seen and the flaming tar barrels are beyond description. Anarchy in the UK indeed…
The organisers have a shop on ebay selling merchandise or you can buy in town on the day.
Click here for the event website : http://www.otterytarbarrels.co.uk/
and here for the Facebook page: https://www.facebook.com/tarbarrels
View larger map