| | |
| --- | --- |
| Where: | Ovingham, Northumberland |
| When: | 3rd Saturday in June |
| Time: | 1pm |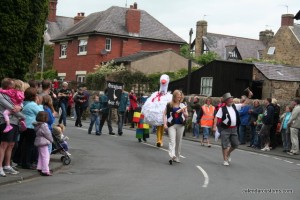 Ovingham Goose Fair is a typical village fete with booths, entertainments, rides and stalls – and a goose (sometimes this is a person in costume but usually the real birds are there too). It traditionally rains at some point but the organisers are well prepared and the various acts have the protection of a marquee, which also acts as a preventive talisman against inclement weather. The event begins with a parade through the village and a  proclamation read by a local celebrity from the ancient packhorse bridge. Expect singing, dancing, magic and more.
Helpful Hints
Try the traditional Northumbrian Singin Hinnies – they're probably the best you'll ever taste.
In 2014, 2015 and 2016 the fair was cancelled owing to the field being used by contractors for the repairs to Ovingham Bridge. It should have returned in 2016 on Saturday June 18th but the bridge was damaged by Storm Desmond just 48 hours after it reopened in December 2015 . The Fair should have returned (again!) on Saturday June 17th 2017 but because of delays replanting the grass on the damaged  site, it will be unavailable for use until 2018. In 2018 it should take place on Saturday June 16th….
Click here for the event website : http://www.ovinghamgoosefair.org.uk/ 
and here for the Facebook page : https://www.facebook.com/OvGooseFair/timeline