| | |
| --- | --- |
| Where: | Oxenhope, Yorkshire starting at the Wagon and Horses pub and finishing at the Dog & Gun |
| When: | 1st Sunday in July |
| Time: | Noon |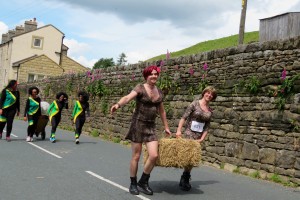 The Straw Race at Oxenhope is a charity fundraising event in which teams race a two-and-a-half mile course from the Wagon and Horses carrying a bale of straw. Teams are set off at regular intervals and are timed, with the fastest team being the winners; however it's not a straighforward run to the finish as competitors must stop at set points on the way to drink a pint of beer. Much of the route is uphill; the entrants must also expect to be doused with buckets or water-pistols, which may be welcome if it's a hot day! Record breakers take around fifteen minutes to finish while laggards can take hours.All who complete the course are presented with a medal at the finishing line. Many competitors choose to race in fancy dress and while it's a serious money-raiser the atmosphere is lighthearted and fun. The views of the surrounding countryside are spectacular!
Helpful Hints
In 2018 it will be on Sunday July 1st.
Anyone can watch for free – competitors must register by 10.30  and pay £25 per team for advance booking or £30 on the day. Car parking is available at the Dog and Gun pub (the finishing point) which cost £3 for the day in 2015; road closures are in place so check the website for details. As it's a lengthy route it's easy to get a good view of the competitors – lots of spectators set up chairs and watch the teams go by.
Click here for the event website : http://www.strawrace.com/
View larger map